Device History: HTC Kaiser | HTC Wizard | HTC Blue Angel | HP iPAQ 3970 | Sony Clie T615C | Philips Nino 320
Last updated 2/5/2007 - This page has been permanently archived and will never be updated again.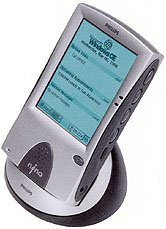 Mobile Computing Page: Philips Nino 320
I suppose I'm what you could call an early-adopter. Nino. 1999.